Energy conservation is one of the most important measures for protecting the environment and reducing energy production costs.
Germateh Adria has developed catalysts that significantly lower the cost of energy and greenhouse gas emissions in conventional electricity generation.


A catalyst for boosting the efficiency of combustion plants.
Product description
G-TECH ECO aims to improve the combustion process of fossil fuels. It basic function is to reduce or remove pipe deposits from superheaters and other heating surfaces. Residues act as a thermal conductivity insulator and are undesirable as such.
G-TECH ECO catalyst is an ideal medium-term measure to ensure energy efficiency and climate protection. The product considerably reduces fuel consumption of conventional large combustion plants as well as flue gas emissions, such as SO2, NOx, COx and particulate emissions.
G-TECH ECO
Cleans the combustion chamber and all consecutive heating surfaces of boilers on the exhaust gas side
Reduces the number of shutdowns
Increases the efficiency of the combustion plant
Reduces fossil fuel consumption
Reduces harmful emissions
Reduces CO2 and CO gases
Reduces NOx emissions
Reduces unburned carbon in ash and smoke emissions
Improves the use of dust removal systems
Protects from corrosion
Its implementation does not require any investment in technical equipmentNo investment in technical equipment is required for implementation
Easy to use
Use
G-TECH ECO is used in power plants, refineries and production facilities with their own electricity and steam generators.
Electric generators with boilers producing up to 1000 t of steam per hour
Electric generators with coal fired boilers
Electric generators with travelling grate boilers
Electric generators with process furnaces
Functionality
Fossil fuel combustion leads to the formation of exhaust gas deposits on the boiler's metal surfaces, on the walls of the combustion chamber as well as on additional heating surfaces.
Exhaust gas deposits:
Reduce heat exchange during combustion
Reduce efficiency of the boiler
Contribute to corrosion
Damage to the pipe system
Lead to more frequent shutdowns of the boiler
Boilers whose pipe systems contain deposits require higher energy input (coal consumption) than the same capacity boilers with a clean pipe system. If the boiler's pipe system is kept clean, the heat exchange or thermal conductivity is optimal and the energy input is reduced.
If used regularly, G-TECH ECO removes all exhaust gas residue and increases the overall efficiency and consequently the energy efficiency of the boiler.
Economics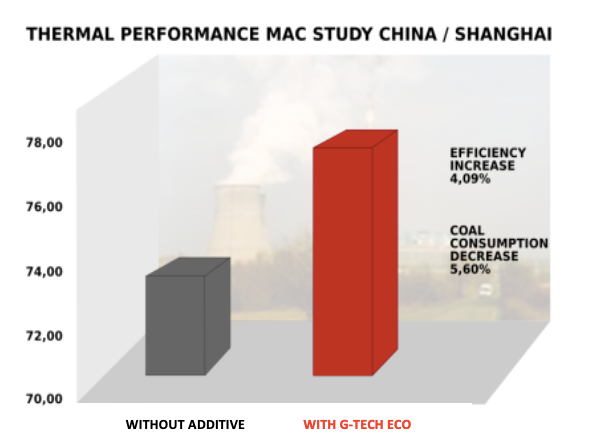 •It has been proven that cleaning fossil fuel boilers with G-TECH ECO reduces fuel consumption by 3% – 8%, making the return on investment very fast. Thus the cost of using G-TECH ECO is negligible compared to the achieved fuel savings. G-TECH ECO does not require any investment in technology.

Ecology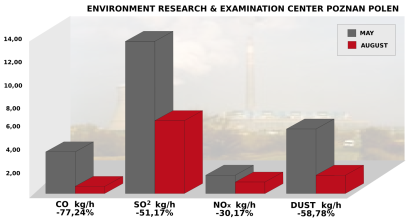 In addition to the reduction in total emissions resulting from the reduction in fuel consumption, the use of G-TECH ECO leads to a double digit reduction of SO2, NOx, CO and particulate emissions. Latest estimations show that fly ash is the second main cause of the greenhouse effect.
Technical information
Gray dust
Ignition temperature
Contains oxygen, which prevents it from consuming oxygen during combustion
Contains potassium nitrate
Does not contain aggressive chemicals or chlorides
Does not damage boiler walls or the boiler itself
Not explosive
Odorless
UN number 1479
Class 5.I
We will be happy to provide you with detailed product data. Contact us for more information.